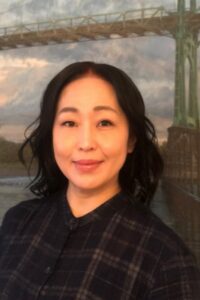 Kumi grew up in Japan where she graduated from university and then continued her education in Canada. The climate allowed her to develop her athletic endeavors in snowboarding. Her draw to the outdoors and our culture inspired her to move to Portland. While in Portland, she had a massage and experienced firsthand what massage therapy could do for transforming the musculoskeletal system. It was so effective that she wanted to be able to help others in the same way and began her training as a licensed massage therapist.
Her specific style of work hones in on not only the muscle, but calibrating the nerves that lay below the tissue. She is skilled in various techniques such as myofascial release, and many other methods that involve pain reduction with long lasting effects. Her massage is often focused on recovery for all types of people from all lifestyles. She thrives on helping people heal from repetitive motion and overuse symptoms, motor vehicle accidents, as well as common exercise injuries, sports injuries, and other types of structural challenges.
Kumi's ability to listen, observe and take note of your goals has created successful outcomes for so many that come to our center for care. She always gives 100% of her attention to your specific needs.
Her love for massage extends from her desire to help eliminate or greatly reduce pain, and says that the world is already so busy, she wants to help people slow down and take care of their physical and mental health.
In her free time, Kumi loves to go on outdoor adventures with her friend's dog, Niko. It's always a goal for her to have some one on one time with her snowboard as well!
Lic. # 26457