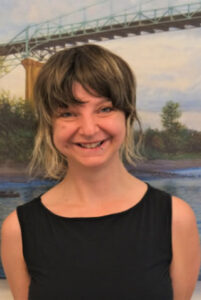 Amy was born and raised on a small island off the coast of Maine, known as Vinalhaven. After living in Bali and becoming a certified yoga instructor, Amy moved to Portland where she graduated from East West School of Massage. She has advanced training in deep tissue, trigger point, neuromuscular therapy, myofascial release, prenatal & postnatal, sports massage, cupping, and traditional Swedish massage.
Amy also has foundational training in both structural bodywork and craniosacral modalities. Her background as a yoga instructor inspires the incorporation of movement, along with open dialog regarding treatments.
Amy focuses her sessions with the intention of rewriting neurological associations to pain and discomfort, and collaborating to create more space and ease in everyday movement. This approach allows for increased balance and patient-empowered elevation into greater well-being.
In her free time, you can find Amy hiking, swimming, off-roading or adventuring with her dog, Liska. She also enjoys art, bird watching, stargazing and recently is learning how to play the piano.
Lic. 25763
She/Her/They/Them